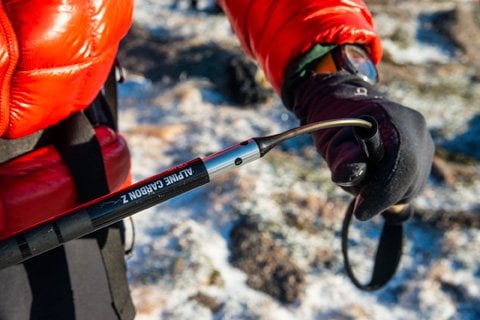 Walking poles are must have items for our days out in the hills and we are always keen to try out something that promises versatility, lightness, low pack volume, robustness and ease of use in a variety of condition.
The first impression of the poles was in their collapsed state, allowing them to be stashed on the side of a pack easily or inside if needs be,as well as into hold luggage if flying. The poles also lock neatly and securely into slots on the baskets. The weight for the pair is 425g for the longer 130cm length, whilst the shortest version weigh in at an impressive 350g. Putting the poles together is a quick process by deploying the nifty Speed Cone and concealed Kevlar cord system, with a final locking button process snapping the poles into a rigid length. To dismantle the poles it is necessary to push in the small locking button. We found this to be slightly fiddly when wearing gloves and would need to be kept free from dirt to allow it to operate efficiently at all times.
Once up, the 3 part carbon poles offer no real adjustment other than moving the hands up and down the shaft, so it is crucial that the right size option is chosen for your height. Amazingly, there are 4 lengths available from 100cm to 130cm. This lack of adjustment is generally fine when using the poles on rolling terrain and downhill. However, when moving up very steep ground it is harder to manage the poles without the feeling that they are too long, although hands can be moved below the cork onto a short rubber grip.
The actual hand grips are made from antibacterial cork, which helps when working hard with sweaty hands in summer heat. They also have good grip when using them with gloves in the winter. The breathable padded wrist straps offer excellent support and wicking, and are easily adjusted and locked by pulling up and down on the strap. The baskets are easy to change and the snow basket allowed good purchase and the ability to push down when snowshoeing. When working with crampons on icier ground, changing to the carbide tech tips helped with security.
The build quality of the poles is pretty robust, offering good confidence when using them over a range of mountain terrains including bog, river crossings, scree descents and boulder fields. When moving at speed, including running, they offered good stability and purchase and, because of their lightness, are less fatiguing on the arms than heavier poles.
Our Verdict
Overall the Alpine Carbon Z poles offer a super lightweight, robust and packable four season option which can be used throughout the year, including winter, and put into flight luggage. They do have slight limitations for those wanting to use them on very steep ascents and for other purposes, such as supporting tarps and tents. In our opinion they are best suited for fast trail and Nordic walking, snowshoeing and, possibly, fell running. The lack of height adjustment means the appropriate length needs to be chosen carefully, but with 4 lengths to choose from this should not be a problem.