High Route of the Cairngorms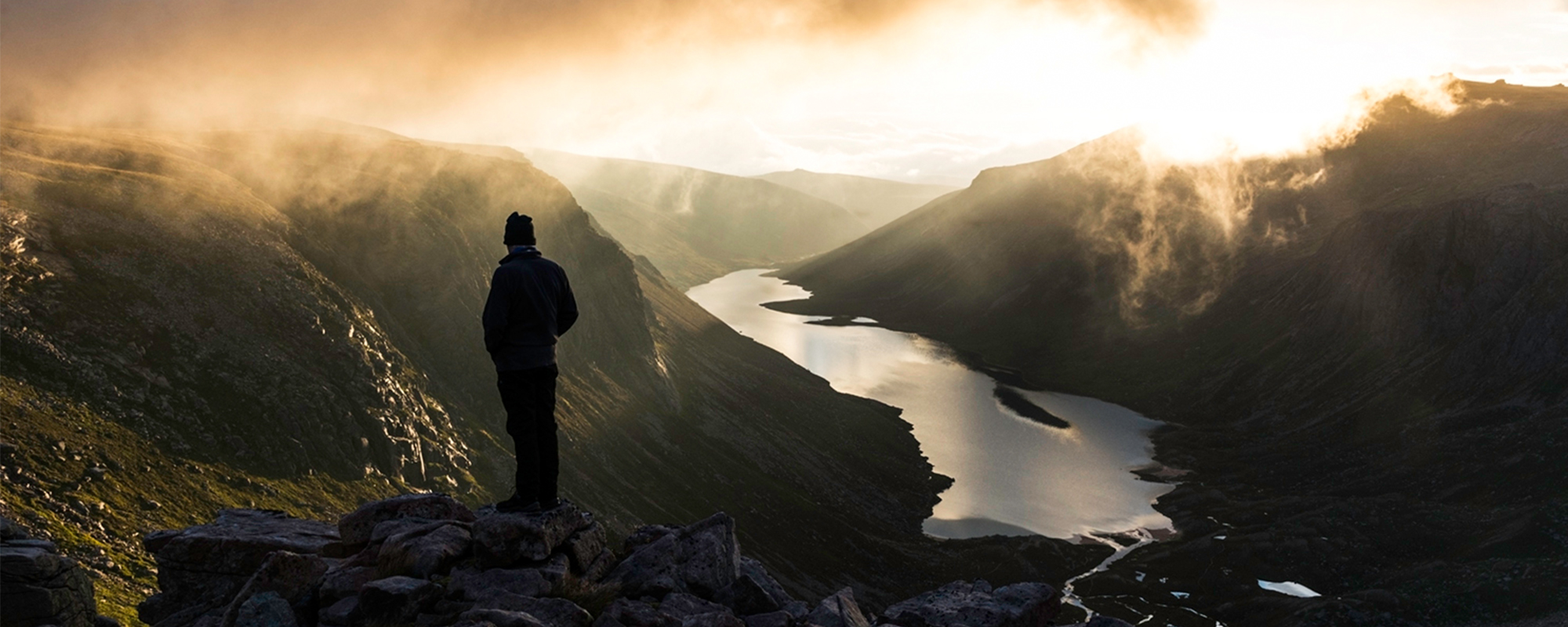 Our iconic and epic 5 day trek with the opportunity to summit 12 Munros in the Cairngorms including Ben Macdui and Ben Avon. A true adventure with 4 overnight wild-camps.
Starting at the western edge of the Cairngorms this lightweight five day trek includes 4 over night wild camps and will take you, weather permitting, to the summit of up to 12 Munros, including some of the highest mountains in Britain above 4000 feet (1219 metres) such as Ben Macdui, Carn Toul and Angels Peak, and others in isolated and difficult to get to areas such as, Monadh Mor, Beinn a' Bhuird and Ben A'an.
Although this will not be a fast paced walk, and there will be some time for relaxation and contemplation, days will be long and a good level of mountain fitness will be required so that the stunning environments you pass through can be thoroughly appreciated.
To keep weight to a minimum this trek will include food restocking on route.
Munro summits to be attempted will be:
Sgor Gaoith
Monadh Mor
Sgor an Lochain Uaine (Angel's Peak),
Carn Toul,
Bod an Deamhain (The Devil's Point),
Ben Macdui,
Carn a Mhaim,
Derry Cairngorm
Beinn Mheadhoin,
Beinn a' Chaorainn,
Beinn a Bhuird
Ben Avon (A'an).
Other areas visited or viewed will be the stunning Lochs of Einich, Etchachan and Avon. We will also pass by the world famous bothy of Corrour in the Lairig Ghru.
The 5 Days will take in variety of  environments ranging from easy paths in Ancient Caledonian forest to trackless mountain terrain, including boulder fields, expansive arctic tundra plateaux and river crossings. Whenever possible wild camps will be in isolated high mountain locations, generally above 900 metres (3000 Feet).
The route we follow will be flexible and adapted on a continuous basis to the conditions and how the group is performing. There will be opportunity to take on related skills such as navigation, route planning  and those relating to long distance self supported lightweight trekking and wild-camping.
Please complete the form below to enquire about booking a place on this trek. We will aim to get back to you as soon as possible.